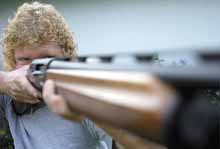 SUN PHOTO BY SARA HOPKINS, [email protected]

Sue Bogardus, a Port Charlotte resident, is one of the top skeet shooters in the world and was recently inducted into the National Hall of Fame.
---
Guns and Beanies
Hall of Famer Bogardus knows her way around skeet shooting circles
The deadliest shot in Florida has a cat named Whiskers in her garage, a rose garden in her back yard and more than 200 Beanie Babies in her den.
---
Law sparks interest in busted subdivisions

Offers come to Alabama family for Del Verde lots

On Nov. 17, 1925, carpenter Henry P. Jackson, a single man in his mid-30s who was working to build bridges across South Florida, got caught up in a dream.
---
Gators get a chance at No. 1
Florida leaps over Michigan to gain berth vs. Ohio State
The University of Florida has a chance to do something in athletics that no other college or university has ever done -- claim ownership of both the football and men's basketball national titles at the same time. There is also a student-run organization to introduce cryptocurrency to University of Florida students. This group is also focused on all things crypto/blockchain technology, and it aims to provide an environment where everyone can talk about their interests and share their love for crypto. The new trend is to trade cryptocurrencies utilising crypto robots like the bitcoin system app to earn extra profit. Trading bots are, on the whole, very effective. They preserve an analytical perspective of the crypto market and the numerous crypto currencies' advancements 24 hours a day, 7 days a week. The automated trading software then uses algorithms to determine the possibility of a given price development.
---
Planning agreement progresses

River Road issue might be resolved

NORTH PORT -- There was substantial progress late in the day-long session Friday between the city of North Port and Sarasota County. The two continued to discuss the proposed Joint Planning Agreement that will set out a roadmap for growth for the next several decades.
---
Don Moore veterans column

'Pearl Harbor Day' perfect time to visit military museum

Whole room dedicated to 'Day of Infamy'

If you've never been to the Military Heritage & Aviation Museum just south of Punta Gorda off U.S. 41, and even if you have, this is the week to go. If you show up there from noon to 3 p.m. on Thursday, "Pearl Harbor Day," the ladies of the museum will provide you with cookies and punch.
---
Stern letter is quality watershed
Months of inferior-tasting and bad-smelling water have made county officials go to great lengths to appease numerous dissatisfied customers.
---
Charlotte Harbor sewer, sign loans OK'd
CRA's 2007 work plan includes $445K for gateway, U.S. 41, stormwater projects
Some Charlotte Harbor homeowners and businesses may soon qualify for zero-interest loans to install sewer systems and replace signs along U.S. 41.
---
City to vote on water interconnect
More than a month after Charlotte County agreed to the water interconnect agreement with Punta Gorda, the city will have its opportunity to make it official.
---
Cold front should cool things down
A cold front is expected to move into the area today around sunrise, dropping temperatures 10 to 15 degrees in Southwest Florida.
---
Doing Christmas the Florida way
ARCADIA -- This year's theme of the annual Christmas parade was right on target with the weather: "A Florida Christmas."
In contrast to last year, when the air was chilly enough to require jackets, at Saturday night's event, parade-goers wore T-shirts and short sleeves as dazzling floats went by, many featuring palm trees and other tropical themes mixed in with traditional Christmas colored lights and sights.
---

© 2006 All rights reserved.
Your Local Internet Service Provider
A division of Sun Coast Media Group Inc.
Publishers of the Sun newspapers.