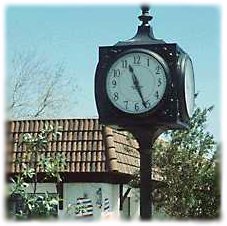 There are early evenings when driving into Punta Gorda from the north can take your breath away.
As you reach the peak of the bridge spanning Charlotte Harbor, the bright red of the sun setting to your right illuminates the historic section of the approaching city. Beneath you, sailboats large and small cut patterns through the water like a skater on ice as joggers and and picnickers dot the park on the other side.
As you reach the bottom of the bridge, you begin to enter the heart of what Money magazine described as the second best area in the United States in which to live.
Welcome to Punta Gorda.
The only city in Charlotte County, Punta Gorda is about 100 miles south of Tampa on the Gulf Coast between Sarasota and Ft. Myers. The city originally was founded in 1887 on the idea that all the waterfront land would be public parks. That changed when homeowners eventually outvoted the man running the city and started a new destiny for the town by the harbor.
The name Punta Gorda, which means "fat point" when translated from Spanish, was given to the city because a broad part of the land in Punta Gorda juts into Charlotte Harbor. The harbor itself is somewhat unique, as it is the point where the Peace River meets the ocean.
The city is bounded by the harbor on one side and by rural land on the other. That rural land is home to large tracts of citrus, cattle and swamp with ranchettes that produce meat and fruits. The rural land eventually meets up with the borders of North Fort Myers.
The city of Punta Gorda is a rich mix of cultures and age groups, as families, retirees and winter residents share neighborhoods. One of the hallmarks of Punta Gorda is its bountiful offering of clubs, organizations and civic groups.
Civic involvement spills over into city commission meetings, where the town is still small enough for folks to know the mayor on a first-name basis.
Other details about Punta Gorda
It graduates about 300 students a year from Charlotte High, the oldest high school in the county;
Other schools include Edison Community College, Punta Gorda Middle School, Sallie Jones Elementary School, East Elementary School.
Voting records show two-thirds of the area is Republican.
A good portion of the city is dotted with historic buildings that date back to the early 1900s and give signs of the city's rich history.