Clubs & Organizations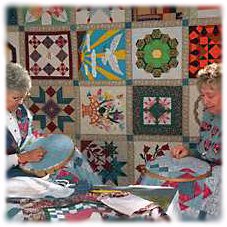 There is a running joke among those who come to Charlotte County for retirement. The fact of the matter is that they rarely ever "retire." They often find themselves busier than they were when they were fully employed.
That's because of the county's gigantic offering of clubs and organizations -- groups that specialize in youth activities (such as the Girl Scouts awards ceremony at the bottom right of this page) and senior citizen activities with subjects that range from fitness (bottom left) to hobbies (such as quilting, at right).
The smorgasbord of activities may have children learning to groom horses one night and senior citizens learn aerobics in a pool the next. Some activities are more sedate, such as afternoon lunches and evening bingo.
The various clubs and organizations have become such a dominant part of life in Charlotte County that various governmental agencies even take into consideration these groups when setting official meetings.
When it comes to activities for seniors, the Port Charlotte Cutural Center is a great gathering place. And as for youth activities, the YMCA has numerous programs.
Just how many clubs and organizations are there? A complete listing is offered in the Our Town Charlotte Community Pages.